---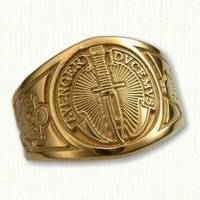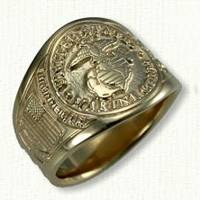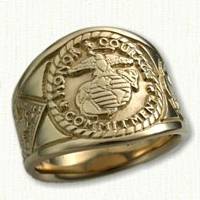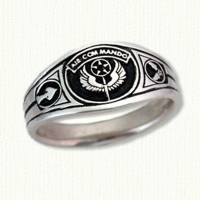 These are some of our most recent custom signet rings. If you want to have something that is unique to you, or your
division, call us 1-888-727-8266, or e-mail us. We will get back to you with more information and a price quote.
---

We were contacted with an idea to create a rings for members of the 2nd battalion
8th Marines and the 3rd battalion 3rd Marines, stationed in Iraq and Afghanistan.
We have enjoyed the opportunity to Support our Troops!

---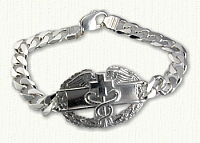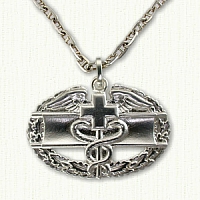 Combat Medic Badge Sterling Silver Bracelet#SS05053 $125.00-Sterling Silver (8" or 9")
& Pendant #SS05053 $75.00-Sterling Silver with 20" anchor chain

---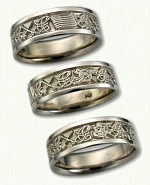 Custom Military Designed band with the initials C and J, also with other military symbols.
---
187 Infantry Crossed Muskets
14kt yellow gold Muskets and 187 - $145.00
Please call for pricing in 18kt gold

---
Two Tone Airborne Cross Pendant
#CR141-5049
14kt white gold with 14kt Yellow Gold Airborne Wings
$350.00 without a chain
$125.00 for Sterling Silver with 14kt Yellow Wings

---

10th Mountain Division

Oval 10th Mountain Division Medallion
Available in 5 sizes - Sterling silver, antiqued sterling silver, gold plated sterling silver, 14kt yellow gold or 14kt white gold. Shown in antiqued sterling silver size E or Dollar size. Chain Extra. There is a $10 fee for all antiquing.


Size
S/S
G/P S/S
14KT

B #5013
(18 x 20mm)

$29.95
$39.95
$199

C #5013
(24 x 26.5mm)

$32.95
$42.95
$330

D #5014
(27 x 30mm)

$39.95
$49.95
$391

E #5016
(36.5 x 41.5mm)

$49.95
$59.95
$465

10th Mountain Crossed Swords #5018
Available in 4 sizes - Sterling silver, antiqued sterling silver, 14kt yellow gold or 14kt white gold. Shown in sterling silver with red and blue enamel, size D or Half Dollar size. Chain Extra. There is a $10 fee for all antiquing.


Size
S/S
Enamel
14KT
Enamel

A (10.5 x 13.5mm)

$27.95
$47.95
$89.00
$109.00

B (14.25 x 17mm)

$29.95
$49.95
$123.00
$143.00

C (17 x 20.5mm)

$32.95
$52.95
$171.00
$191.00

D #5017
(26 x 31mm)

$39.95
$59.95
$550.00
$570.00

---

Assorted Airborne Jewelry
Money clips, tack pins, medallions, tie bars, rings and small pendants are all available in sterling silver, 14kt yellow or white gold, 18kt yellow gold or platinum.
Round 82nd Airborne Division Medallion
Available in 5 sizes - Sterling silver, antiqued sterling silver, gold plated sterling, 14kt yellow gold or 14kt white gold. Shown in 14kt yellow gold, size E or Dollar size. Chain Extra. There is a $10 fee for all antiquing.


Size
S/S
G/P S/S
14KT

A #5209
(16.5mm)

$27.95
$37.95
$210.00

B #5209
(19mm)

$29.95
$39.95
$263.00

C #SS05103
(22.5mm)

$32.95
$42.95
$328.00

D #5208
(26 mm)

$39.95
$47.95
$406.00

E #5208
(34 mm)

$49.95
$57.95
$769.00

Rectangular 82nd Airborne Division Tack Pin #5207
Available in 4 sizes - Sterling silver, antiqued sterling silver, 14kt yellow gold or 14kt white gold. Shown in antiqued sterling silver size D or Half Dollar size. There is a $10 fee for all antiquing.


| | | | | |
| --- | --- | --- | --- | --- |
| Size | S/S | Enamel | 14KT | Enamel |
| A (10 x 13mm) | $27.95 | $47.95 | $99.00 | $119.00 |
| B (12 x 16mm) | $29.95 | $49.95 | $116.00 | $136.00 |
| C (13 x 18mm) | $32.95 | $52.95 | $137.00 | $157.00 |
| D (17 x 23mm) | $39.95 | $59.95 | $206.00 | $226.00 |

Airborne Wings and 82nd Money Clip shown below.

---

Round 101st Airborne Division Medallion
Available in 4 sizes - Sterling silver, antiqued sterling silver, gold plated silver, 14kt yellow gold or 14kt white gold. Shown in antiqued sterling silver size E or Dollar size. Chain Extra. There is a $10 fee for all antiquing.


| | | | |
| --- | --- | --- | --- |
| Size | S/S | G/P S/S | 14KT |
| A #5026 (16 mm) | $27.95 | $37.95 | $137.00 |
| B #5076 (21.5 mm) | $29.95 | $39.95 | $206.00 |
| B #5026 (24 mm) | $32.95 | $42.95 | $309.00 |
| D #5216 (31 mm) | $39.95 | $49.95 | $584.00 |
| E #5216 (36 mm) | $49.95 | $59.95 | $825.00 |




101st Airborne Cuff Links
Shown in solid 14kt yellow gold with black paint antiquing - $450.00. Available in sterling silver, antiqued sterling silver and 18kt gold plated sterling silver. Click on the image to see the enlarged view.
Airborne Wings and Money Clip shown below.

---

187 Company Jump Wings
Sterling Jump Wings with 14kt yellow gold 187.
Oval 187th Airborne Brigade Medallion
Available in 5 sizes - Sterling silver, antiqued sterling silver, gold plated sterling, 14kt yellow gold or 14kt white gold. Shown in antiqued sterling silver size C or Quarter size. Chain Extra. There is a $10 fee for all antiquing.


| | | | |
| --- | --- | --- | --- |
| Size | S/S | G/P S/S | 14KT |
| A #5027 (17 x 20 mm) | $27.95 | $37.95 | $206.00 |
| B #5027 (23.5 x 27 mm) | $29.95 | $39.95 | $446.00 |
| C #5028 (27.5 x 32.5 mm) | $32.95 | $42.95 | $515.00 |
| D #5043 (33 x 39 mm) | $39.95 | $49.95 | $893.00 |
| E #5043 (40.5 x 48 mm) | $49.95 | $59.95 | $1306.00 |

Airborne Wings and Money Clip shown below.

---

Oval 555th Airborne Regiment Medallion
Available in 5 sizes - Sterling silver, antiqued sterling silver, gold plated sterling, 14kt yellow gold or 14kt white gold. Shown in antiqued sterling silver size E or Dollar size. Chain Extra. There is a $10 fee for all antiquing.


| | | | |
| --- | --- | --- | --- |
| Size | S/S | G/P S/S | 14KT |
| A #5033B1 (16 x 19 mm) | $27.95 | $37.95 | $158.00 |
| B #5033B2 (20 x 22.5 mm) | $29.95 | $39.95 | $240.00 |
| C #5033C (25 x 29 mm) | $32.95 | $42.95 | $392.00 |
| D #5033A (27 x 32mm) | $39.95 | $49.95 | $426.00 |
| E #5042A (30.5 x 36.5 mm) | $49.95 | $59.95 | $728.00 |
| F #5042B (38 x 45 mm) | $52.95 | $62.95 | $914.00 |

Click here for another photo of the 555th medallion : Sterling silver with 18kt yellow gold plating
Small 555th "Triple Nickel" Tack Pin
#5066

Size : 11/16" tall &18mm left to right
Shown : Sterling silver
Sterling Silver $29.95
Gold Plated Sterling Silver $39.95
14KT yellow or white gold $115.00
Available either as a pendant or tack pin

555th "Triple Nickel" Pendant
#5210

Size : 1 1/2" tall & 40mm left to right
Shown : Gold plated nickels on a 14KY anchor chain

Nickels on a Black Cord $29.95
Gold Plated Nickels on Black Cord $39.95
Nickels on a 24" sterling anchor chain $52.95

Made from real buffalo nickels dating back to the 1930s. The nickels come on a 30" black cord and are packaged in a small velveteen pouch.

555th "Triple Nickel" Pendant with Jump Wings

Size : 2 1/4"
Shown : Gold plated on a 14KY on Black Cord

Nickels/Wings on a Black Cord $54.95
Gold Plated Nickels/Wings on Black Cord $64.95
Nickels/Wings on a 24" sterling anchor chain $79.95

Made from real buffalo nickels dating back to the 1930s. The nickels/wings come on a 30" black cord and are packaged in a small velveteen pouch.

Airborne Wings and 555th Money Clip shown below.

---

Custom Military Belt Buckles

Airborne Wings Belt Buckle
Size-3 1/2 " X 2 1/2 "
Pewter Belt Buckle-$24.95
Pewter Belt Buckle (Belt included)-$39.95
Sterling Silver Belt Buckle-$275.95

Airborne Wings Air Assault Belt Buckle
Size-3 1/2 " X 2 1/2 "
Pewter Belt Buckle-$29.95
Pewter Belt Buckle with Belt-$44.95
Sterling Silver Belt Buckle-$289.95

101st Airborne Wings Belt Buckle
Size-3 1/2 " X 2 1/2 "
Pewter Belt Buckle without unit logo-$24.95
Pewter Belt Buckle without unit logo (Belt included)-$39.95
Pewter Belt Buckle with Sterling silver unit logo-Please call for pricing
Sterling Silver Belt Buckle without unit logo-$275.95

82nd Airborne Wings Belt Buckle
Size-3 1/2 " X 2 1/2 "
Pewter Belt Buckle without unit logo-$24.95
Pewter Belt Buckle without unit logo (Belt included)-$39.95
Pewter Belt Buckle with Sterling silver unit logo-Please call for pricing
Sterling Silver Belt Buckle without unit logo-$275.95

Airborne Wings Belt Buckle With 2 Units
Size-3 1/2 " X 2 1/2 "
Pewter Belt Buckle without unit logo-$24.95
Pewter Belt Buckle without unit logo (Belt included)-$39.95
Pewter Belt Buckle with 2 Sterling silver unit logos-Please call for pricing

Marine Corps Belt Buckle
Pewter Belt Buckle $20.95
Add belt for $15.95

American Veterans Belt Buckle
Pewter Buckle with Sterling Silver Star - $24.99
Pewter & Silver Buckle (Belt included) - $39.95
Sterling Silver Belt Buckle - $275.95
Please call for any custom engraving.
VFW Post 9249 Belt Buckle
Pewter Belt Buckle - $24.95
Pewter Belt Buckle (Belt included) - $39.95
Sterling Silver Belt Buckle - $275.95
Call to have one customized for your post
Vietnam Service Belt Buckle
Pewter Belt Buckle - $24.95
Pewter Belt Buckle (Belt included) - $39.95
Sterling Silver Belt Buckle - $275.95
Call to have one customized for your post

---

Airborne & Air Force Wings

Enameled Sterling Silver
Officer's Glider Patch Pin
This is a pin that we made for a glider officer from his patch
We would love to make a custom piece for you.
Starting at $69.00
Sterling Silver
Rigger Wings Pin
SS08103
This is a custom made pin.
We would love to make a custom piece for you.
Starting at $34.95
506 G Company Jump Wings
The 506 Airborne battalion w/ Sterling G Company.
$37.95 - All Sterling Construction
$46.95 - Gold Plated Numbers
187 Company Jump Wings
Sterling Jump Wings with 14kt yellow gold 187.
$37.95 - All Sterling Construction
$46.95 - Gold Plated Numbers
Airborne Wings Signet
This handsome signet ring sports the small airborne wings.
Sterling silver for $150.00
Sterling silver shank with 14kt wings for $195.00
14kt gold or 14kt two tone price varies based on finger size.
(Pricing starts at $825.00 in all gold; priced determined size and finished weight)
Small Jump Wings Tack Pin/Pendant
#5049

Size : 3/4" x 3/8"or 9.5 x 18 mm
Shown : 14KT yellow gold
Sterling Silver $29.95
Gold Plated Sterling Silver $39.95
14KT yellow or white gold $ 82.50
Available as a tack pin or pendant.
Senior Jump Wings Tack Pin

Size : 1 7/16" x 3/4"
Sterling Silver $34.95
Gold Plated Sterling Silver $44.95
Sterling Wings with 14kt yellow star $104.95
14KT yellow or white gold $194.95
Large Jump Wings Pendant #5210
Size : 1 7/16" x 3/4"
Shown : Sterling Silver on an Anchor Chain

Sterling Silver $29.95
24" Sterling Anchor Chain $25.00
Gold Plated Sterling Silver $39.95
14KT yellow or white gold $364.00
24" 14KY Anchor Chain $356.00
Available as a tack pin or pendant.
Large Jump Wings with Star and Wreath #5051
Size : 1 7/16" x 1 1/4"
Shown : Sterling Silver on an Anchor Chain

Sterling Silver $34.95
24" Sterling Anchor Chain $25.00
Gold Plated Sterling Silver $44.95
14KT yellow or white gold $412.50
24" 14KY Anchor Chain $356.00
Available as a tack pin or pendant.

Large Jump Wings with Star Pendant #5113
Size : 1 7/16" x 3/4"
Shown : 14KY on an Anchor Chain

Sterling Silver $44.95
24" Sterling Anchor Chain $25.00
Gold Plated Sterling Silver $49.95
14KT yellow or white gold $560.00
24" 14KY Anchor Chain $570.00
Available as a tack pin or pendant.

Flight Wings
Size : 2" x 1/2"
Shown : Sterling Silver
Sterling Silver $34.95
14kt gold $595.00
Available as a tack pin or pendant.
Air Force Commander Aviator's Pendant #5074
Size : 2" x 3/4"
Shown : Sterling Silver
Sterling Silver $60.00 including 20" anchor link chain
14kt gold $357.00 chain not included
Enlarged View
Air Force Senior Aviator's Bracelet
Size : 8" or 9" bracelet with 2" x 3/4" wings
Shown : Sterling Silver
Sterling Silver $125.00
Enlarged View
Jump Wing Bracelet #5060
14kt yellow gold large jump wings on a heavy sterling silver curb link bracelet.
All sterling silver $159.00
14kt yellow wings on a sterling silver bracelet $ 841.00
Available in 7", 8" or 10" lengths.
Enlarged View


---

3rd Infantry Medallion - Round
Available in 5 sizes - Sterling silver, antiqued sterling silver, 14kt yellow gold or 14kt white gold.
Chain Extra. There is a $10 fee for all antiquing.


| | | | | |
| --- | --- | --- | --- | --- |
| Size | Item # | S/S | G/P S/S | 14KT |
| 16mm | #5096A | $27.95 | $37.95 | $137.50 |
| 20mm | #5096B | $29.95 | $39.95 | $206.50 |
| 22mm | #5096C | $32.95 | $42.95 | $275.00 |
| 26mm | #5096D | $39.95 | $49.95 | $412.50 |
| 33mm | #5098E | $42.95 | $52.95 | $550.00 |

3rd Infantry Medallion - Square
Available in 4 sizes - Sterling silver, antiqued sterling silver, 14kt yellow gold or 14kt white gold.
Chain Extra.There is a $10 fee for all antiquing.


| | | | | |
| --- | --- | --- | --- | --- |
| Size | Item # | S/S | G/P S/S | 14KT |
| 17mm | #5094A | $29.95 | $39.95 | $206.50 |
| 20mm | #5094B | $32.95 | $42.95 | $343.00 |
| 23mm | #5094C | $39.95 | $49.95 | $412.50 |
| 26mm | #5085D | $42.95 | $52.95 | $618.00 |

4th Infantry Medallion - Round
Available in 5 sizes - Sterling silver, antiqued sterling silver, 14kt yellow gold or 14kt white gold.
Chain Extra. There is a $10 fee for all antiquing.


| | | | | |
| --- | --- | --- | --- | --- |
| Size | Item # | S/S | G/P S/S | 14KT |
| 16mm | #5092A | $27.95 | $37.95 | $137.50 |
| 20mm | #5092B | $29.95 | $39.95 | $206.50 |
| 22mm | #5092C | $32.95 | $42.95 | $275.00 |
| 26mm | #5092D | $37.95 | $47.95 | $412.50 |
| 33mm | #5084E | $42.95 | $52.95 | $550.00 |

4th Infantry Medallion - Square
Available in 4 sizes - Sterling silver, antiqued sterling silver, 14kt yellow gold or 14kt white gold.
Chain Extra. There is a $10 fee for all antiquing.


| | | | | |
| --- | --- | --- | --- | --- |
| Size | Item # | S/S | G/P S/S | 14KT |
| 12mm | #5093A | $27 | $37 | $103.00 |
| 14mm | #5093B | $30 | $40 | $137.50 |
| 16mm | #5093C | $35 | $45 | $206.00 |
| 20mm | #5093D | $40 | $50 | $275.00 |

4th Infantry Mechanized Medallion - Round
Available in 5 sizes - Sterling silver, antiqued sterling silver, 14kt yellow gold or 14kt white gold.
Chain Extra. There is a $10 fee for all antiquing.


| | | | | |
| --- | --- | --- | --- | --- |
| Size | Item # | S/S | G/P S/S | 14KT |
| 16mm | #5090A | $27.95 | $37.95 | $137.50 |
| 20mm | #5090B | $29.95 | $39.95 | $206.50 |
| 22mm | #5090C | $32.95 | $42.95 | $275.00 |
| 26mm | #5090D | $37.95 | $47.95 | $412.50 |
| 33mm | #5084E | $42.95 | $52.95 | $550.00 |

NEW! Custom Air Assualt Pendant

Sterling Silver (shown): $29.95
14kt Gold: $414.00
NEW! Custom Air Assualt Bracelet

Sterling Silver (shown): $125.00
14kt Gold: $1521.00
Custom Combat Infantry Bracelet

Shown : 14kt Yellow Gold logo on a 10kt White Gold Figero style chain.

14kt Yellow Gold with 14kt White gold chain; $1,300.00
Sterling Silver and 18kt Gold, prices available on request.



Enamelled Key Tag & Tie Tack
Shown : Sterling silver with black & blue enamel
S/S, No Enamel-$29.95, Enameled S/S-$39.95
More enameled jewelry
Submarine Pendant/Charm
#4701

Shown : Sterling silver on rolo chain

Size : 1 3/8" solid
Sterling Silver including 20" rolo chain $41.95
Gold Plated Sterling with 20" Gold Filled Chain $51.95
14kt Gold (chain extra) $151.00


U. S. S. Princeton CV37 Aircraft Carrier Pendant
#4237 26 x 35 mm

Sterling Silver $95.00
14kt Gold $550.00

Shown here in sterling on a 24", 5.3mm single cable chain ($55.95). A heavy 24" 14kt gold anchor chain is also available. Other chain lengths and styles available. Click here to see a larger picture along with an actual photograph of the USS Princeton.

Air Combat Command Medallion
Available in 5 sizes - Sterling silver, antiqued sterling silver, 14kt yellow gold or 14kt white gold. There is a $10 fee for all antiquing.


Size
S/S
S/S Enamel
14KT
14kt Enamel

A #5008
(18 x 19.5 mm)

$27.95
$47.95
$172.00
$192.00

B #5008
(20.5 x 22.5 mm)

$29.95
$49.95
$240.00
$260.00

C #5059
(24 x 26 mm)

$32.95
$52.95
$343.00
$363.00

D #5075
(35 x 36 mm)

$37.95
$57.95
$687.50
$707.50

E #5007
(39 x 41 mm)

$49.95
$69.95
$859.00
$879.00

1st Armored Division Medallion
Available in 5 sizes - Sterling silver, antiqued sterling silver, 14kt yellow gold or 14kt white gold.
Chain Extra. There is a $10 fee for all antiquing.


| | | | | |
| --- | --- | --- | --- | --- |
| Size | Item # | S/S | G/P S/S | 14KT |
| 16mm | #5091A | $27.95 | $37.95 | $137.50 |
| 20mm | #5091B | $29.95 | $39.95 | $206.50 |
| 22mm | #5091C | $32.95 | $42.95 | $275.00 |
| 26mm | #5091D | $37.95 | $47.95 | $412.50 |
| 33mm | #5108E | $42.95 | $52.95 | $481.50 |

1st Cavalry Medallion
Available in 5 sizes - Sterling silver, antiqued sterling silver, 14kt yellow gold or 14kt white gold.
Chain Extra. There is a $10 fee for all antiquing.


| | | | | |
| --- | --- | --- | --- | --- |
| Size | Item # | S/S | G/P S/S | 14KT |
| 16mm | #5087A | $27.95 | $37.95 | $137.50 |
| 20mm | #5087B | $29.95 | $39.95 | $206.50 |
| 22mm | #5087C | $32.95 | $42.95 | $275.00 |
| 26mm | #5087D | $37.95 | $47.95 | $412.50 |
| 33mm | #5083E | $42.95 | $52.95 | $550.00 |

32nd Army & Air Missile Defense Medallion
Style A
Available in 5 sizes - Sterling silver, antiqued sterling silver, 14kt yellow gold or 14kt white gold.
Chain Extra. There is a $10 fee for all antiquing.


| | | | | |
| --- | --- | --- | --- | --- |
| Size | Item # | S/S | G/P S/S | 14KT |
| 16.5mm | #5089A | $27.95 | $37.95 | $137.50 |
| 19.5mm | #5089B | $29.95 | $39.95 | $206.50 |
| 22mm | #5089C | $32.95 | $42.95 | $275.00 |
| 26mm | #5089D | $39.95 | $49.95 | $412.50 |
| 31.5mm | #5082E | $42.95 | $52.95 | $550.00 |

32nd Army & Air Missile Defense Medallion
Style B
Available in 5 sizes - Sterling silver, antiqued sterling silver, 14kt yellow gold or 14kt white gold.
Chain Extra. There is a $10 fee for all antiquing.


| | | | | |
| --- | --- | --- | --- | --- |
| Size | Item # | S/S | G/P S/S | 14KT |
| 16mm | #5095A | $27.95 | $37.95 | $137.50 |
| 19mm | #5095B | $29.95 | $39.95 | $206.50 |
| 22mm | #5095C | $32.95 | $42.95 | $275.00 |
| 26mm | #5095D | $37.95 | $47.95 | $412.50 |
| 31.5mm | #5085E | $42.95 | $52.95 | $550.00 |

32nd Army & Air Missile Defense Medallion
Style C #5088
Available in 3 sizes - Sterling silver, antiqued sterling silver, 14kt yellow gold or 14kt white gold.
Chain Extra. There is a $10 fee for all antiquing.


| | | | | |
| --- | --- | --- | --- | --- |
| Size | Item # | S/S | G/P S/S | 14KT |
| 16 x 17mm | #5088A | $27.95 | $37.95 | $116.00 |
| 19 x 20mm | #5088B | $29.95 | $39.95 | $171.90 |
| 22 x 23 mm | #5088C | $32.95 | $42.95 | $213.00 |

Coast Guard Medallion #5080
Available in 4 sizes - Sterling silver, antiqued sterling silver, 14kt yellow gold or 14kt white gold.
Chain Extra. There is a $10 fee for all antiquing.


Size
Item #
S/S
G/P S/S
14KT
5/8"
16.5 mm
#5080A
$27.95
$37.95
$137.50
3/4"
19 mm
#5080B
$29.95
$39.95
$206.50
7/8"
21 mm
#5080C
$32.95
$42.95
$275.00
1"
25 mm
#5080D
$37.95
$47.95
$412.50
1 1/4"
31.5 mm
#5080E
$42.95
$52.95
$550.95

Custom Military Coin Pendant
Custom sterling silver coin pendant shown on a sterling silver anchor link chain. Custom graphic/mold fee of $200.00 - $300.00 applies. A 1n 1/2" coin similar to this will run $100.00 + graphic fee in sterling silver and $1250.00 + graphic fee in 14Kt yellow gold. Please contact us for more details 1-888-727-8266.
Enlarged View
Custom Military Coin Pendant
Custom sterling silver coin pendant shown on a sterling silver anchor link chain. No Graphic Fees Apply, but engraving on the scroll will start at .35 cents a letter with a $4.00 minimum. The cost of the coin pendant in sterling silver 1/2" size is $75.00. Please contact us for more details 1-888-727-8266.
Enlarged View

---

Airborne Cuff Links
#SL04972A
Available in sterling silver : $79.95
gold plated sterling silver or 14kt gold.
Please call for other pricing.
Custom Enameled Flag Cuff Links
14KT white gold enameled flag cuff links.
Custom graphic fee applies. Visit our Custom Cuff Links Sitefor pricing information.
Eagle Cuff Links
#3408
Available in sterling silver, gold plated sterling silver or 14kt gold.
Custom Military Dragon Cuff Links
Triangular cuff links in sterling silver with 18kt yellow gold electroplating in recesses. Custom graphic fee applies.

Marine Corps Cuff Links
Shown in sterling silver $109.95
In 14kt: $549.00
Enlarged view
Anchor Cuff Links & Tie Tack
Sterling silver fouled anchor cuff links and matching tie tack. Visit our Nautical Jewelry page for pricing and other ideas

---

Marine Corps Money Clip
#SS08057
Shown in sterling silver with a 14kt yellow
gold raised Marine Corps Emblem.
Money Clip Size: 2" x 1"
$100.00 all sterling silver
$195.00 sterling with 14kt logo
Enlarged view
Globe Money Clips
#3371
Sterling silver money clip with raised, photo etched globe. The sterling globe has 18kt yellow gold electroplating in the recesses for contrast. All sterling money clips come with a textured background.
Money Clip Size: 2" x 1"
Globe portion measures 16 x 32mm
Cost 100.00 in all sterling silver
Enlarged Photo
Airborne Money Clip
Sterling silver textured money clip with sterling jump wings #5049 and an enameled 82nd Airborne emblem#5207. All sterling money clips come with a textured background.
Cost $150.00 as shown in all sterling silver.
Money Clip Size: 2" x 1"
Enlarged Photo
Customized Airborne Money Clip
Sterling silver textured money clip with sterling jump wings, an enameled 82nd Airborne emblem and machine engraved initials. All sterling money clips come with a textured background. Money Clip Size: 2" x 1"
Cost $160.00 as shown in all sterling silver.
555th Triple Nickel Money Clip
Sterling silver money clip with sterling raised
triple nickel logo. Logo measures 7/8".
Money Clip Size: 2" x 1"
Nickels measure 6mm across each
Cost $100.00 in all sterling silver.
All sterling money clips come with a textured background.

Customized 555th Triple Nickel Money Clip
#5063
Sterling silver money clip with raised 14kt yellow
gold triple nickel logo and hand engraving.
Logo measures 7/8".
Money Clip Size: 2" x 1"
Nickels measure 6mm across each
Cost $275.00 as shown


---

Diamond 101st Airborne Ring
Custom deSigned Signet Ring.
14kt Yellow Gold Shank with 14kt White top.
Please call for pricing or to create your own ring.
Click to view without antiquing.

Antiqued Air Commando Signet Ring
Custom Signet Ring.
Please call to create your own ring.

Air Commando Signet Ring
Custom Signet Ring.
Please call to create your own ring.

2D battalion 8th Marines Signet Ring
Custom Signet Ring.
Please call to create your own ring.

Airborne Wings Signet
RR02975A
This handsome signet ring sports the small airborne wings.
Sterling silver $150.00
Sterling silver shank with 14kt wings
RR02975A + SS05072C - $195.00
14kt gold or 14kt two tone price varies based on finger size.
(Pricing starts at $825.00 in all gold)
Hand Engraved Eagle Signet Ring
14kt yellow and 14kt white gold signet ring.
Enlarged view
Custom Army Pathfinder Signet with Diamond
14kt gold custom signet ring with photo etched top and bezel set diamond. 16.5dwt. Custom graphic/mold fee applies.
Enlarged view

Special Forces Crest Ring - Green Beret
'De Oppresso Liber'
Shown in 14kt gold with black paint antiquing
Sterling silver $175.00
14kt yellow gold $700.00 for sizes up to a 12

---

Custom Marine Corp Jump Wings Bracelet
"Wings of Gold"
$140 Sterling Silver w/ Gold Plating
Please Call for Further Pricing

Marine Corps Pendant
Shown in 14KY gold.
21.5mm x 24.5mm
$389 in 14kt; any color
Please call for 18kt, Platinum, or Silver Pricing

Marine Corps Signet Ring
Shown in 18KY gold. Ring is priced based on finished weight. This ring weights 20 - 30 dwt depending upon finger size for a price of $900 - $1350 in 14kt yellow or white gold.

Enlarged view
3rd Marine Division Medallion
Style A
Available in 5 sizes - Sterling silver, antiqued sterling silver, 14kt yellow gold or 14kt white gold. Shown in 14kt yellow gold, size D or Half Dollar size. Chain Extra. There is a $10 fee for all antiquing.


Size
Item #
S/S
G/P S/S
14KT
5/8"
16mm

#5081

$27.95
$37.95
$137.50
3/4"
20mm

#5081

$29.95
$39.95
$206.00
7/8"
22mm

#5081

$32.95
$42.95
$240.00
1"
26mm

#5081

$37.95
$47.95
$343.00
1 1/4"
31mm

#5083

$42.95
$52.95
$446.00

3rd Marine Division Medallion
Style B
Available in 5 sizes - Sterling silver, antiqued sterling silver, 14kt yellow gold or 14kt white gold. Shown in 14kt yellow gold, size D or Half Dollar size. Chain Extra. There is a $10 fee for all antiquing.


Size
Item #
S/S
G/P S/S
14KT
5/8"
16mm

#5078

$27.95
$37.95
$137.50
3/4"
20mm

#5078

$29.95
$39.95
$206.00
7/8"
22 mm

#5078

$32.95
$42.95
$275.00
1"
26 mm

#5079

$37.95
$47.95
$412.50
1 1/4"
32 mm

#5079

$42.95
$52.95
$550.00

Marine Corps Tie Tack
#SS08057
Sterling silver $59.95
14kt yellow or white gold $249.95
15/16" x 7/8"
Enlarged view
Marine Corps Money Clip
#SS08057
Shown in sterling silver with a 14kt yellow gold
raised Marine Corps Emblem.
$100.00 all sterling silver
$195.00 sterling with 14kt logo
Enlarged view
Custom Marine Corps Tie Bar
#SS08057
Custom two tone Marine Corps tie bar.
We will gladly create something similar for you!
Marine Corps Cuff Links
#SS08057
Shown in sterling silver $109.95
15/16" x 7/8"
Enlarged view

---

Military Wedding Ring

Custom Military Band with the initials C and J, with a flag, Marine Corps emblem and other symbols. Remember, we do "one of a kind" so your ring could have any pattern or initials on it. Custom graphic and mold fee applies ($100 - $200 depending upon complexity of the design).

Custom Combat Infantry Wedding Rings

Two tone custom wedding bands with 3mm princess cut diamonds in the ladies band and the Infantry Badge logo on the gents. Custom graphic and mold fee applies ($100 - $200 depending upon complexity of the design).

Custom Military Themed Wedding Band

We can create a photo etched band similar to this using your initials, a military insignia or other graphic. Custom graphic and mold fee applies ($100 - $200 depending upon complexity of the design). Shown in 14kt white gold with 14kt yellow gold rails, 8mm width.




---