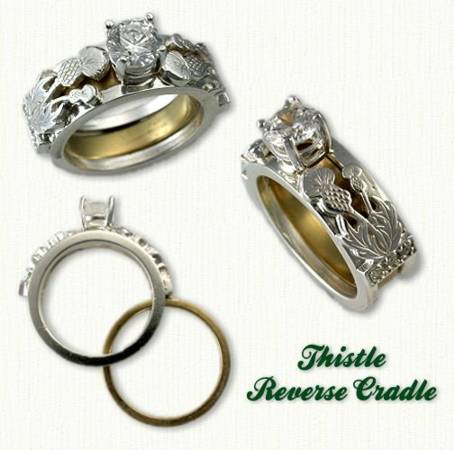 Shown: 14kt white gold Custom Thistle Reverse Cradle set with a round diamond.
The pattern is a double thistle and has 3 small diamonds at the base on each side. The inside band is 14kt yellow gold.

Visit our matching Thistle Knot band page for other ideas.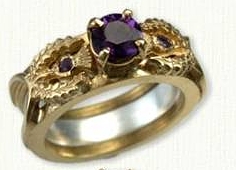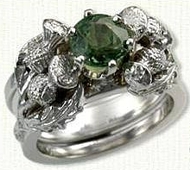 All Reverse Cradles Are Sold With A Free Sterling Silver Inner Band




---
Description: The 'Reverse Cradle' is our newest innovation in our extensive line of custom Engagement and Wedding rings. In concept it is an Engagement Ring with the Wedding band that is removable. The best part of this concept is that it puts to rest the age old problem of wedding bands that don't really fit with the engagement ring. The inside band has a continuous pattern and can be worn daily by itself, while you are doing your house hold cleaning projects or enjoying outdoor activities where a stone filled mounting isn't appropriate.
The 14kt Gold Thistles Reverse Cradles STARTS at $649 (excluding stones) and includes a free sterling silver spacer band.
We offer Incentives of up to $150 if you purchase one of our diamonds or gemstones.
Please call for specific pricing on the style of your choice.

Inner wedding bands are sold separately and start around $400 (4mm width, 14Kt gold).
Sketches with Estimates available upon request. We can create a Custom Reverse Cradle for your stones or ours. . .