The History of deSignet International / raru.com inc.
formerly Schopp's Jewelry Shoppe.
---
Breaking News . . . . We Just Found 10 Years!
In a 25th Anniversary Newspaper Advertisement, dated October 1st 1947. Charles A. Schopp Sr. references his first store on Grant Street in Buffalo, opened in 1899. For years we believed that he started in the Ellicott Square in 1909. Here is a link to the 25th Anniversary Ad featuring Charles A. Schopp Sr.
and his son, Charles A. Schopp Jr., my Dad and a link to the Article.

---
Interestingly I did find a listing in a Buffalo City Directory from 1894. Jacob Frederick Schopp, Charles father, a Civil War Veteran from the 7th Battalion, operated a Clock Repair Shoppe on Forest Avenue. I will keep the site updated when more information becomes available.
Our Journey into our Past Continues . . .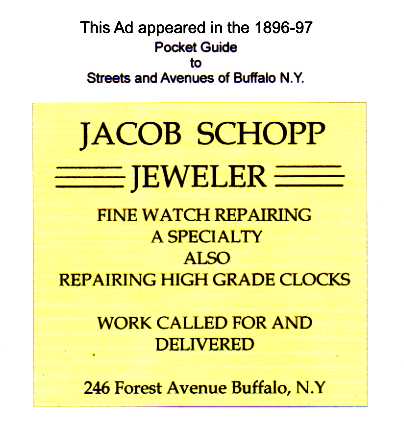 ---
Photos of the Ellicott Square Location 1909
Ellicot Square Building - Buffalo New York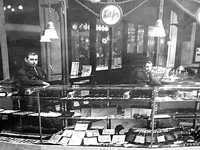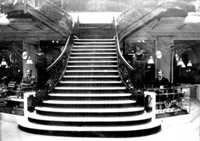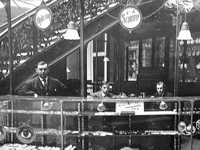 Picture left Charles A. Schopp - Founder - North Stairway of the Ellicott Square Building

---
Photos of Schopp's Jewelry Shoppe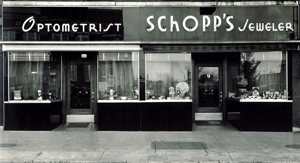 Tonawanda - New York 1920-1974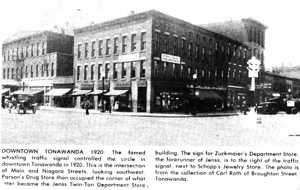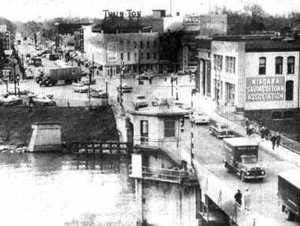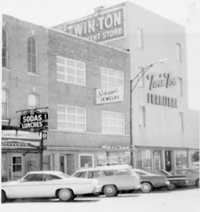 These three photos of the Main and Niagara Intersection Tonawanda New York, 20's - 40's - 60's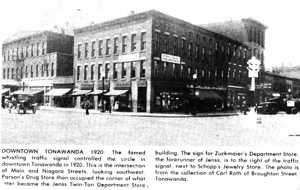 ---


Pictured here is Charles A. Schopp Jr. with his team of "marketeers" getting ready to attack Tonawanda residents.1952.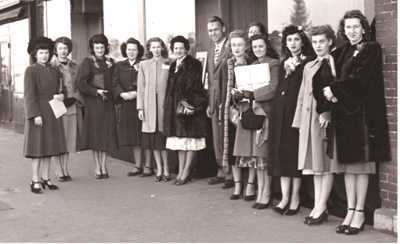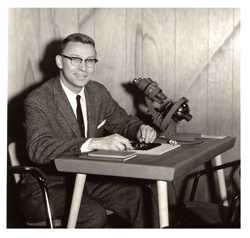 Pictured here is Charles A. Schopp Jr. at his diamond grading desk. 1958.

---
Pictured here Reg M. Schopp - presenting advertising award to Lousie Adamczyk and Art Wade.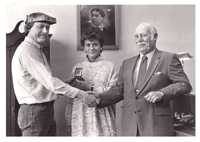 Presenting another award to unknown lady in the Lewiston Studio 1988.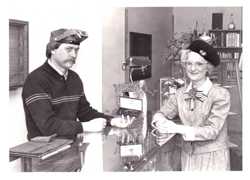 Pictured here with his 1991 staff including Roman Jurga is Shoppe foreman closing in on twenty five years.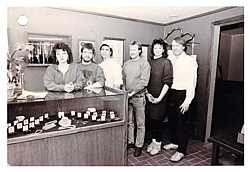 ---
Here is story written in 1984 by Robert Durlak, for a marketing brochure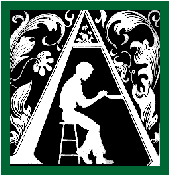 nd there lived once upon a time a young lad who was raised in a most unusual manner. Gold wire and silver plate were his playthings and yet his play was neither frivolous or without purpose for he was directed in the creation of objects of beauty and art. The shaping of rings, melding of precious metals, and the beauty, form and color of stones drawn from the bountiful earth all formed the basis of his skills. As the lad grew, his skills and talents blossomed, he was graced with talented hands and a quick far-seeing mind. He soon applied the extensive resource of his gifts toward the creation of distinctive works to please those who came to know him. Tutored in the value and worth of metal and stone, he shared his knowledge with those who came to him. Value based on weight, worth based on cherished principles, were also gifts he freely granted to those who enlisted his service and advice. When he reached manhood, his talents flourished, few who dwelt in his area were aware that there was an artisan who possessed a sense of values which matched theirs. The world had changed, quality, uniqueness and value were forgotten words. Mediocrity, sameness and usurious prices were commonplace. Soon, the craftsman who valued the old ways began to challenge the misdeeds of the new. His shoppe began to produce almost all the items presented to those who came to it's doors. He serviced metals and stones. His knowledge of the spectrum of colored stones and diamonds enabled all to obtain beautiful creations within realistic and economic frameworks. He and his associates graciously found time to develop a trusting relationship with those who desired time-honored standards. His craftsmen provided discerning customers with a complete knowledge of how exquisite jewelry can be deSigned and sold at fair prices.
The preceding story has a two fold purpose . . .
1.) To contrast our unique goals with those of modern retailers.
2.) to emphasize our traditional values - choosing a setting, for example, that echoes an era of fine craftsmanship and service.
The real story:
Many of the tools we now use are from the first Schopp's Jewelry Shoppe, founded by Charles A. Schopp in 1899 on Grant Street in Buffalo, New York. In 1909 he opened in the Ellicott Square Building, at that time the largest office building in the United States. In 1922 the business was moved to Tonawanda, New York just north of Buffalo on the mighty Niagara River. Continued by his son Charles Jr. who ran the business from 1949 to 1967 and added many lines to the retail operation. Today Reg Medlicott Schopp, grandson of the founder, continues the tradition. Graduating from Findlay College in 1971, Reg came home to help his mother run the business. In the early 70's Reg took the business back to the custom order format of his grandfather, slowly developing his hand engraving and his metal fabricating skills. Reg said, "The real joy comes from creating a piece of jewelry that pleases the customer and generates compliments for the wearer". In 1987 deSignet International was formed to market through magazines and national publications realizing the shrinking local marketplace and the need to expand outward. deSignet has found a unique market. Many of their current customers belong to groups and associations. By offering unique products to these groups for membership promotions and fundraisers, they found the perfect fit. "We have always tried to take the mystery out of jewelry making, a mystery often promoted by the large retailers to inflate value, often accompanied by large margins and surprise, easy credit. We want our customers to understand how the process works and, that, having "one of a Kind deSign" doesn't have to cost more, in fact, often less, without the hype. Let us help you understand just how it works. Send us a good black and white of your groups logo and we'll show you just how simple it can be.
---
1972 Move to Grand Island
This is our first new location in over fifty years, the Tonawanda property had been purchased for urban renewal and the business climate was dying. Grand Island was our home and seemed the best possibility for re-location. Little did we know that the bridges would block off island customers. It took thirty years to find a market that would, and now we have customers weekly driving hundreds of miles to see and touch the product, first hand. The best part is 97% order! When we considered relocating to Grand Island, the only other options available were in the malls. Today, twenty five years later the struggle makes sence.



---
1987 Move to Grand Island Boulevard
1987 We moved from our Baseline location, across from St. Stephen's Church, that had been our home form over ten years. The Grand Island Boulevard location would hopefully give us more exposure, on what Grand Islander's call the "main drag". It made sense and helped in the transition between the local "home town" jeweler, to what we consider our new global "home town" jeweler approach to marketing. For many dealing with customers over the internet is less personal, utilizing shoping cart technology. Today we want to make every contact with our customer as freindly and informative as possible. Why not offer the same "home town" friendliness to people in far off lands, honestly it just feels like the right thing to do.
---
In 1990 We Moved to 1869 Whitehaven Road
---
Nationally Advertised Products 1987-1992
deSignet International


---
Do you recognize this picture? This is an example of what type of detail we can achieve. It is the original Smithsonian Institute formed by the U.S. Congress in 1846 from a large sum of money left by James Smithson. The photo to the right is a Sterling replica we made and presented in 1990 for approval as a pin. Even though production was fouled up in red tape we are still very pleased with the detail we accomplished. The 2" pin is available in sterling for $59.95 and in 14Kt for $295. 50% of all proceeds from the sale of this pin will be donated to the Smithsonian Institute.
These are some of our National B&W Magazine Ads we ran in the New Yorker, Smithsonian and Yankee magazines in the late 1980's and early 90's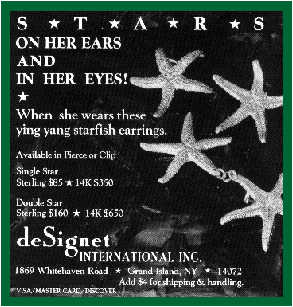 We are very proud of the copy, although a bit corny I admit, it seemed a perfect way for us to present our ideas. In the national marketplace it is the unique in deSign that stands out and a creative approach to the copy seemed an appropriate fit. Some of these items are featured in other sections of this site in color. It is interesting to see just how effective a good black and white photograph can be. It seems so long ago and color seemed so prohibitive at the time. The starfish pictured in the ad are modeled after a real starfish found by my daughter, Kim, on her first trip to Florida in 1988. The use of one inverted creates sort of a yin yang effect, a great look. 1 1/4" across with omega clips for support, pierced or non $85.00 in sterling and $350.00 in 14KT for the single and $175 and $650 for the double style.
| | |
| --- | --- |
| | |
| These lobsters, approx 1 1/4" long with moveable claws make the most stunning earrings. Also available as cuff links and pins. In sterling with omega clips $85.00 and $385.00 in 14Kt. Perfect for the summer outings by the shore. | Eagle cuff links and tuxedo studs |
<! - - - - - - - - - - Google Analytics Tracker Script - - - - - - - - - <('.'<) <( '.' )> <!- - - - - - - - - - 1. Raru.Com - - - - - - - - - <('.'<) <( '.' )>